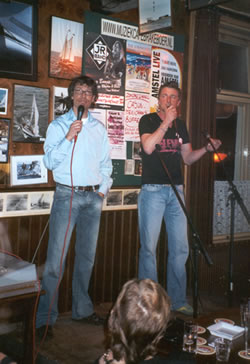 Ieder die op wat voor manier dan ook denkt humor te bezitten(droog, nat, slap of hard) en dat ook kan overbrengen op publiek de kans en de gelegenheid te bieden om dat te doen. Vandaar ons open podium.
Mag uiteraard op de klassieke Stand Up Comedian wijze zijn, maar mag daar net zo goed van afwijken (mime, lied, mop, rijm of weten wij veel allemaal..)
Aanmelden:
Wanneer je dus denk, hé dat lijkt mij wel wat ik zou graag ook eens mee willen doen op een dergelijke avond, meld je dan aan via deze site. Wij nemen dan  z.s.m. contact met je op.